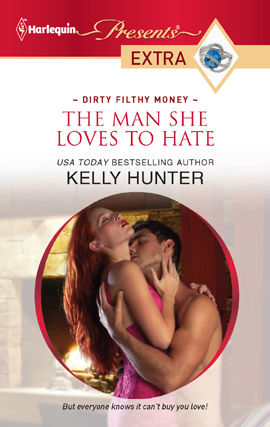 The Man She Loves to Hate was so full of anger, hate and revenge. Anger for what Jolie Tanner's mother did to Cole Rees' family. Thanks to her mother Rachel and Cole's father. James. because he took Rachel as his mistress. As a young girl and that fateful day she learned the truth, everything changed for her. She lost her best friend Hannah, was shunned by her other school friends as well. However, she also lost the young teen, Cole, who she had always adored and had a crush on.
Now, ten years later, James Rees died, leaving her mother alone and broken hearted and she's had to pack up her mother's things left behind in a cabin on the mountain slopes. All Jolie could think of was getting off the mountain and back to her life in Christchurch as an artist. However, fate was not kind to Jolie because who should her long time friend Hare, reveal.......Cole was up on the mountain saying goodbye to his father. A horrible storm was brewing and he would also be on the gondola going back down the mountain. Jolie was shocked but not before disguising herself as a boy so that Cole wouldn't recognize her. Let the games begin!
God had a sense of humour because in the end and thanks to mother nature they were thrown together and almost died in that horrible snow storm. However, not before Jolie saved them both and got them safely to a mountain shack and warmed them both up. In the end, it was shear torture for them both, reliving the past and so being attracted to each other. Jolie like her mother, was a siren, with her lovely white skin and red hair and she attracted men just like her mom. She and Cole were like oil to water. Cole self confident and clearly used to socializing. Jolie on the other hand, used her art to express herself. She had learned to put up a mask and hide her emotions. There was one thing for sure, Cole wanted Jolie in his life and in his bed and he'd do anything to make that happen. He even go against his mother and his sister for the chance to be with her.
Cole needed to make business decisions due to his father's death and because he was in charge of the company. His mother was trying to unseat him from being in charge of his father's company. On top of that, Hannah was pitching a fit because Cole was seeing Jolie. But Cole didn't care, he only wanted to be with Jolie, she was like a "drug". As for Jolie, she had proved how strong she was by getting them both to the mountain shack. She had courage and fortitude and that was what he had admired in her, plus her beauty and her sensual pull.
In the end, everything ended up in a mess and it seemed like James Reese from the grave was going to cause Jolie, her mother and his own family grief. He left Jolie a house among other things and quite an amount money to her mother as well. It was a shock to him, them and his family and it only made things worse. However, Jolie didn't want any of it and she was upset. In the end, she hired an attorney to give it all back to Cole and his family. Could his friends, business partners and family forgive the past? All I can say is that it was a pretty rough road for Jolie and Cole. However, with Cole's determination and love for this very special young woman, they did get their happy ending thanks to the very talented Kelly Hunter.
Book Description:
Three reasons to keep away from Cole Rees...
1. My mom had a scorching affair with his dad—just think how awkward that "meet the family" would be...
2. His arrogance drives me mad—he might be a gorgeous billionaire, but I hate how he knows it!
3. Every time he touches me I go up in flames...and it's utterly terrifying.
Come on, a fling with the man I love to hate? Like that would ever work out...