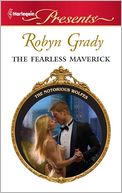 I'm so loving the Mills and Boon's Bad Blood series and in North America it's The Wolfe's. Robyn Grady again entertained me with her Fearless Maverick. Honestly, this author never disappoints and this incredible book was no exception.
It featured two world champions......Alex Wolfe, a man at the top of his game as a race car driver. Or should I say an injured race car driver who needed to be physically able to participate in the next world class race. And Libby Henderson who also achieved world class status as a top surfer, only to loose a leg in a surfing accident. However, that didn't stop Libby, with the encouragement of family and friends, she was now a top physio therapist and was going to be working with Alex.
After meeting Alex she realized two things and the most important was she wouldn't compromise her principals to release Alex before he was ready to return to the racing circuit. She also immediately realized he was charming, dangerous and tempting; something she couldn't afford. When she had needed her fiance, he had bailed, so she definitely had trust issues, especially when it came to her leg. After weeks of being with him there was a definite sexual attraction between them and being the sexy man he was, he wanted to take it all to the next level with Libby. Then the bomb was dropped by his assistant, and he found out about her prosthesis.
The Wolfe's what can one say about them as a family? They had all gone their separate ways and only recently some of them had reunited but not Alex. Their father was a horrible man, a drunk, abusive and he left behind so many scars on his children. Especially Alex's twin Annabelle and his older brother Jacob, who recently returned home to England after many years of disappearing from his siblings. So much tragedy.
All I can say is Alex had to came to some decisions and some of them hurt Libby. However, when he found out about her accident he was so loving and kind and their relationship took my breath away. Due to selfishness, he pushed her away. However, being the strong and determined woman she was, even though she hurt inside, she continued on and I admired her strength. As for Alex, he had to come to some realizations and try to make things right with Libby.
Could he make it up to Libby? After taking baby steps and making amends with those who had helped him along the way, his sister, brother Jacob, and his mentor he was able to also realize he had hurt and used Libby. However, more than anything like his older brother's, Alex realized what Libby meant to him and how much she enriched his life. This review hasn't shown the depth of this book nor the family secrets. Therefore, I encourage you to purchase it because you definitely won't be sorry.
Fearless Maverick was a beautifully written love story with a ton of lessons to be learned. For me, it was Libby's strength. When I actually read about her accident, how she forged on to make a career for herself, how she didn't feel sorry for herself and how she loved her "cocky" race car driver, that made Fearless Maverick very special for me.
Robbie
talks
about The Wolfe's and Fearless Mavrick at I(Heart)Presents.
Book Description:
Driven to succeed, Alex's only desire is to win, win, win—at all costs! A champion race-car driver, he lives like he drives—fast, reckless and always number one. But after a huge crash, with his racing career facing ruin, Alex must confront his biggest fear: failure.
Physio Libby Henderson is there to help him get back to fitness, and all Alex wants to do is get physical! Libby's dealt with more challenging things in life, but it's taking all of her professionalism to keep this stubborn playboy at bay!