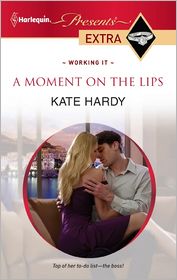 Dante Romano wanted to buy her grandfather's business and socialite Carenza Tonielli wasn't having any of it! He believed her to be a spoilt granddaughter of a man who years ago helped him but in the end, he felt he owned Gino. Dante knew Carenza'a history; she had partied and shopped all over Europe and now she was running a company that went back five generations and he wanted to buy it.
Carenza realized the family business was in trouble and she definitely knew Dante was the man to help her. So on " bended knee" she went to him and asked him to mentor her. He set up a schedule, gave her instructions of things she needed to accomplish and review in the company and set up a game plan. Let's just say they were both distracted by each other, the chemistry was definitely there and sparks flew but they were both determined not to act on the mutual physical attraction for each other. I'm laughing because Dante couldn't keep his hands off of her.
Carenza was adorable, spunky, wore spiked high heels and was sexy beyond belief. She also drove Dante crazy. He didn't want a relationship but in the end, actually looked forward to their mentor meetings and she did as well. The more time he spent with her, the more he enjoyed and it was mutual. He was getting ready to take his restaurants into a franchise and he didn't have time for a relationship but instead of pushing her away, he couldn't help himself and neither could she. They both loved the sparring that always happened when they got together.
Carenza couldn't put her finger on it but she didn't trust her grandfather's "right hand man". She couldn't go to her grandparents because her grandfather had suffered some "heart spells" and of course, she wanted to prove herself and take the business from it's downhill slide and make it successful. Dante actually wanted to help her but told her she needed to audit everything in order to get a handle on why it was failing. All she wanted was for people to take her seriously and respect her and make her family business a success. Plus the fact that it didn't help that she and Dante had become involved.
In the end, Carenza got to the bottom of who was stealing from her grandparents, all on her own. Was there hope for Dante and Carenza? There was certainly the chemistry and passion and add into their romance Plus the fact that Carenza took Dante to Paris for his birthday, such a romantic interlude. She was getting to close for comfort and he knew he needed to distance himself. At that point I knew Carenza would get hurt, that was the story of her life. Loosing her parents, the things people assumed about her, including Dante. I held my breath because I didn't want to see things end badly for either of them.
Kate Hardy has written such a rich and romantic category romance, Italy, Paris, a sexy Italian with a tempting heroine. The ending had me sitting on the edge of my seat because what Carenza discovered about the family business and who was responsible for the skimming. Also would they get a chance at love because Dante had issues due to his childhood and could he get past it?
What a spectacular romance Moment on the Lips was thanks to the creative and accomplished author, Kate Hardy.
Back Blurb:
Dante Romano may be dark and delectable, but Carenza Tonielli will never sell him her family's ice cream empire. Only she needs him—to help her learn how to run it! And when Dante looks at her as if she's the next decadent sundae on the menu, even wary Carenza just can't resist mixing business with a bowlful of pleasure.…
Cue one red-hot fling that's blowing her mind! But, unlike Carenza, her ice-cool Italian is adept at keeping his emotions well under wraps, so she decides to turn the tables on Dante and prove that sometimes living in the moment is sinfully good for you!
Behind the Book:
Recently, Kate posted her inspiration over at I(Heart)Presents. Here's her
post
.
From Kate's Blog:
Carenza's Strawberry Ice Cream
•400g strawberries (about 14 oz US)
•400g fat free Greek yogurt (same as above)
•2 tbs double cream (whipping cream)
•50g caster (fine) sugar
•1 tbs lemon juice
Put the strawberries, caster sugar and lemon juice into a blender and puree until smooth.
Add yogurt and double cream, and pulse until blended.
Pour into an ice cream maker and let the machine work for about 30 minutes.
Spoon into lidded containers and store in the freezer