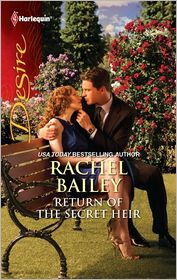 Pia Baxter had a lot riding on Warner Bramson's estate. JT Hartley believed he was one of Warner's three son's. His mother had once worked for Bramson. He had come up the hard way and was now challenging his two brother's for the estate as he believed his mother was entitled to some sort of settlement for the way Warner had treated her. Pia had a lot riding as well, since she had personally brought the case to her firm. If she carried it off, she would make partner. For JT it would bring satisfaction if he won because that would mean his mother would be cared for for all she had suffered at the hands of that man. Plus for all she had sacrificed for her son.
All I could think of was how would Pia and JT be able to forget how much they had once loved each other and how much they had lost fourteen years ago. The pain must have been unbearable for both of them, loosing each other the way they did plus loosing their baby, Brianna. Could there be a chance they could rekindle that romance, forgive each other and get a fresh start? After their loss, Pia had done what her parents had wanted, she had become an attorney. giving up her dreams. Now, if her boss found out she had a past with JT would she would loose her partnership and possibly her job? His other two brother's trusted her and JT had asked her not to bias them in any way. She agreed because that was the sort of woman she was, she had integrity.
Add to the mix, that while comforting Pia, JT and Pia rekindled their passion, the ending result; she was again pregnant with his child. Talk about a mess and how would they deal with it? What would her boss say and how would his brother's feel about their involvement? I couldn't imagine how she would be able to keep her job and what about her family when they found out? Because all of those years ago, her parents had believed him to be a loser. Now he was worth millions. He had worked hard to get where he was today whereas Pia had given up her dreams to be a fashion designer and had become z lawyer like the rest of her family. All of the memories came flooding back for both of them. Both the good and the painful. I wondered how they would survive this mess and could they forge a new relationship based on their remembered love of the past?
Stunning is the only way I could describe the sensual journey in Return of the Secret Heir. There were so many twists and turns to this romance. In addition, a shocking and surprising ending for the Bramson men and JT. This romance was brilliant thanks to the extremely talented Rachel Bailey and like the author, I'm sad this is the last book in the series.
Continuity:
The hero in Return of the Secret Heir, JT Hartley, is the half-brother of Ryder Bramson (At the Billionaire's Beck & Call) and Seth Kentrell (Million-Dollar Amnesia Scandal).


However, although this book is linked to At The Billionaire's Beck & Call and Million-Dollar Amnesia Scandal, it stands alone - you don't need to have read the other books to be able to read this one.