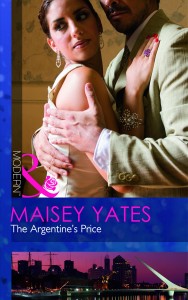 The Argentine's Price was a reunion romance, full of tension throughout the entire story. From the very beginning, author Maisey Yates grabs your attention setting up events from the past and why sexy Lazaro Marino has a grudge. He wants to take over Pickett Industries from the family who threw out he and his mother twelve years earlier, causing them to live on the streets. Vanessa Pickett's father made sure no one would hire them. In the end, because they had no shelter, his mother died. She had been the housekeeper for the Pickett's and he did odd jobs. His relationship with Vanessa Pickett hadn't gone unnoticed by her father. Now Vanessa was at the helm of Pickett Industries and the business was unraveling. Lazaro's was buying up the majority of their stock and planning to take over the business.
All I can say is this book held my attention from the very beginning, thanks to the clever Maisey Yates. With his good looks and billions Lazaro could have any woman he wanted but he wanted Vanessa. She was burned into his brain and he couldn't forget their past. Even with all of his money he had earned, he could not buy his way into society and that irked him. Vanessa was the key. If she became his bride, along with his money it would gain him the entrance into high society. Holding my breath, I wondered if she agreed, what would be the cost to her heart?
Vanessa
knew if she accepted his offer she would save her family business. However, she would loose so much more, her
soul.
Her father would be furious but what choice did she have? She'd always done her duty even though it cost her. She would save the family and honor the memory of her brother, Thomas who if he would have lived, would have run the company. It was his legacy. However, there was a problem, for Vanessa, Lazaro made her feel alive. For Lazaro, she was like the air he breathed, he desired her like no other woman. They were combustible together, in the somehow I knew somehow it could possibly end badly.
He took her to Argentina, passion flared between them and both knew if they didn't share that passion, they would die. It reminded them both of how they felt twelve years earlier.All of their hurts and smashed dreams. Andc then Vanessa learned about the part her father's played in his mother's death. Remembering their shared pastextremely hurtful for both of them, as their dreams had been shattered. All she'd ever done in her life was out of duty and now she was marrying a man to give him status. She realized she had always loved him, had been waiting for his return. I could only wonder, once he got his goal of getting in the social group he so wanted, would he seek revenge and hurt Vanessa?
The Argentine's Price was a spellbinding and fascinating love story thanks to Maisey Yates. From full blown passion, to hurt
an

a

nguish
in the matter of a two week time period before their wedding. Holding my breath , I stayed up very late at night reading the final chapters. I wanted to see them
both
heal and get their happy ending. Actually, I read the last chapters sitting on pins and needles. At night they pleasured each other but by day, Vanessa seemed sad and misserable. He thought it was because he had trapped her in their marriage. He wanted to give her everything but didn't know what to do. Silly man, I thought! You "block head" she wanted your love because love has the power to heal and to make one feel whole. And true to form, Maisey Yates gave this couple a glorious ending, but not before each of them had to suffer a little. If you like reunion romances, you'll love this ones thanks to the twists and turns.
Behind the Scenes with Author Maisey Yates:
The Argentine's Price came about during a coffee shop conversation with Lisa Hendrix. We were talking about the very upper upper crust of American society. And the way old money is revered while new money is often sneered at.



Songs for this book included Bleeding Love by Leona Lewis and Broken by Lifehouse.

The working title for this book was The Trophy Wife.

Anne Hathaway was the inspiration for Vanessa. Mark Conseulos was my inspiration for Lazaro.

Vanessa is a little bit clumsy (she drops her pen in her teacup in a scene). I like to include those moments of clumsiness because I'm an extremely clumsy person, and it's sad to read about graceful people.

There is a scene where Vanessa tells Lazaro he's in danger of getting TMJ from clenching his jaw too often. This came about because I eavesdropped on a twitter conversation between Sarah Wendell and Kira Soleore. They were saying that heroes in romance clenched their jaws so often they were in danger of getting TMJ. I thought it had to be in a book. So now, it is.
Back of the Book:
It's time for the housekeeper's son to collect his dues…
Lazaro Marino will stop at nothing to reach the top. He's climbed his way out of poverty, but there's still one thing that's been denied him: entry into the highest echelons of society. And blue-blooded heiress Vanessa Pickett is the key to unlocking the door to all that he desires…
With her business in crisis, Vanessa is desperate. A marriage proposal of the utmost convenience will give both Lazaro and Vanessa everything they need… But, for Vanessa, this deal with the devil comes with a startling price…