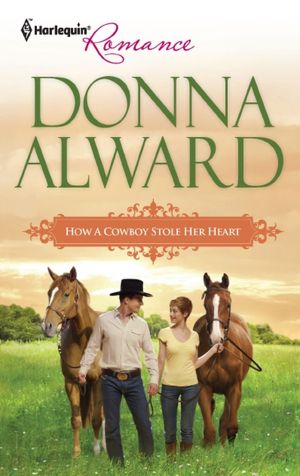 Donna Alward has written a sweet and romantic romance in "How a Cowboy Stole Her Heart". Megan Briggs, a cancer survivor was home but wasn't feeling whole and who should show up in her barn but the man she had always had a crush on, her next-door neighbor, Clay Gregory. Her brother's best friend and her own child hood friend.
Clay knew she didn't believe in fairy tails. She believed in hard work. She was the one who stayed strong for her entire family, she had an idea how she could help save the ranch, but no idea who would loan her the money after the bank said "no".
Honestly, I cannot recall reading a romance where the heroine had breast cancer, who survived surgery and chemotherapy. Yes, I've read second chance romances where either the hero or heroine got a second chance at romance but not one like this where the she not only survived but also moved away for surgery and treatment to keep her family and friends at arms length to protect them. Megan Briggs was a strong young woman who felt she had had to protect her family as her dad had a bad back, and her mother was fragile. Therefore, Megan went to Calgary to handle her cancer alone so as not to worry her family.
This disease I recently went through with my own mother and a young woman who went to school with my son and daughter. I've also had friends who are survivors and I've seen how it can tear some families apart.
Reading about this brave young woman and what she went through, how she was feeling about herself and the loss of one breast, tugged at my heartstrings. However, more so was the attraction Meg had for Clay. She probably had loved him, even when she was eight years old and found him crying because his mother had walked away. She told him she would always be there for him. Even though Clay was best friends with her brother Dawson, I would see there was definitely an attraction between them and I think so could her friends. Speaking of which, I loved how Donna brought Clay's and Megan's friends into the mix. Their weekly getting together at a local bar plus she created a girlfriend for Dawson.
Clay's aunt, the woman who raised him and he loved like a mother was getting married so there was no surprise when Clay asked Megan to be his date and go with him to the wedding. They had grown up together, had been friends, so why not? He needed a date and he could always count on Megan. Talk about turmoil for her because she had always had a crush on Clay. Plus the fact she believed thanks to only having one breast she was lesser a woman. Personally, I cannot imagine how I would feel. However, author, Donna Alward did an amazing job addressing the issue. Not only having her friends help her with choosing a dress, Donna also addressed the issue of intimacy when the couple realized they really care for each other.
I cannot say enough about how much I enjoyed reading How a Cowboy Stole Her Heart. It was pure, sweet and such a warm, fuzzy romance. I can only hope this very talented author will write Dawson's story!
On her
blog
, Donna talks about How a Cowboy Stole Her Heart
Overview
Clay Gregory had known Megan Briggs for her whole life and he had been very worried about her while she had been getting medical treatment. Now she's back home and hiding away on the family ranch.
Knowing the stubborn cowgirl won't accept his help willingly, he invites her to a family wedding to help him avoid his aunt's matchmaking!
He plans to remind Meg she's still the girl who can beat him in a horse race! But as she steps out in her curve-hugging red dress, her skills on a horse are suddenly the furthest thing from his mind