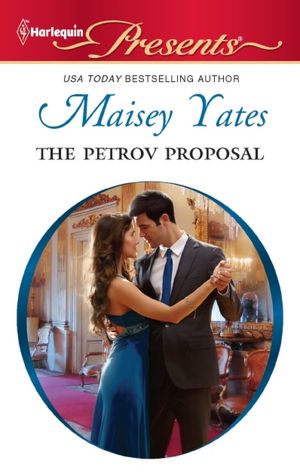 First book in the duo, A
Marriage Made on Paper
is where we met Maddy, Gage Forrester's sister, the sister who was emotionally abused by her wealthy parents, who left her for three days without food because their new nanny never arrived. Her brother removed her from their parents and raised her. He was a young man himself and as we
learned
in A Marriage Made on Paper, he was very protective of his sister. This story was emotional enough. However, hold on to your hat, The Petrov Proposal will "knock your socks off". Powerful, dangerous and emotion taking all of it to a new level. And their intimacy off the charts.
Madeline

Forrester was corporate event planner. At the moment, she was employed by Petrov's to showcase the owner/designer's new jewelry collection. Taste, class, security, presentation was important to Aleksei Petrov.
He would not accept anything less. He was relentless, stern, focused, and only wanted the best. He had loved and lost his beautiful young wife. So as far as "forever" that would never be in his plans. But, Maddy intrigued him and he was determined to bed her.
Maddy didn't like the press. Yes she loved to be recognized for her event planning ability but feared the press thanks to a past experience. All she ever wanted was to be loved. Yes her brother Gage loved her. However, years ago, she had believed her boss had loved her. In the end, it all blew up in her face when his wife exposed Maddy and her husband's affair. Of course, the media had a field day with the piece of information about the affair. So much so, her brother sent her to Europe until everything died down.
There definitely was chemistry between Maddy and Aleksei, Maddy fought it, but in the end agreed to one night so they could both get it out of their system. Well, one night wasn't enough nor Aleksei putting distance between them by returning to Russia. However, I kept waiting for the shoe to fall so to speak because I just knew in the end, it would be Maddy who would get hurt because she was fragile where Aleksei was determined. He was so determined not to fall in love and what started as an affair ended up a disaster.
Do you ever wonder how an author, especially a romance author comes up with a happy ending? I couldn't see how Maisey Yates was going to give one to Maddy. Obviously her alpha, Aleksei believed in love because he had loved his wife. He had been devastated when she died. As for Maddy, the only person who had loved her had been her brother Gage, so what would she know of it? Their HEA was brilliant and very emotional thanks to Maisey's talent.
Behind the Book
with author Maisey Yates
Overview
The first time Maddy Forrester heard her boss's mesmerizing voice barking orders down the phone, she knew he was a force to be reckoned with. But nothing prepared her for the sight of Aleksei Petrov. He is the last thing Maddy needs, but the first thing she wants!
Aleksei is determined not to mix business with pleasure, but he struggles with the irresistible sparks his feisty secretary ignites in him—she's a problem he does not want.
The proposed solution? One unforgettable night to fulfill their every wicked desire.