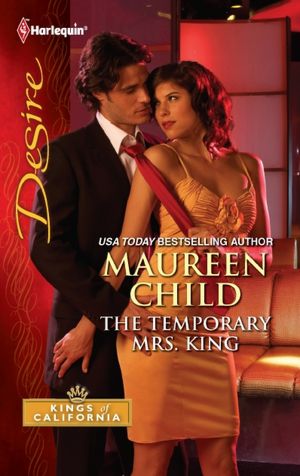 What a pleasant surprise. A man on a mission, willing to do anything to secure a hotel and land for his family, the King's. Again, Maureen Child has entertained me with her marvelous Kings of California Series. Talk about some twists and turns, a few lies, attraction.....ending in a magnificent romance.
This particular book had some deep family drama and secrets on both sides. I found it interesting how the author played the hero and heroine against each other and how strong their motives were for each of them to reach their own personal goals. For Sean King, the land and hotel from Melinda Stanford's grandfather. And for Melinda a "crazy" marriage to get her hands on her trust fund.
What a crazy mess. Her grandfather had an agenda, Melinda also had one and for Sean he was going to take one for the "team", the Kings so they could have island and all of it to make another King success! What neither of them counted on was the attraction, the pull, the tension and actually liking each other. After their marriage, so many things happened, they got to know each other, respect each other, Sean developed a relationship with her grandfather, it became complicated. Add to the mix, Melinda's relationship; with her ex-fiance , his death and what was revealed.
Great secondary characters, the Kings, Melinda's grandfather Stanford, Melinda's best friend and the towns residents. So many lovely layers to this exceptional love story. Let's not forget the Melinda's deceased fiance and his deceit.
I can't say enough about The Temporary Mrs. King and I'm looking forward to reading many more