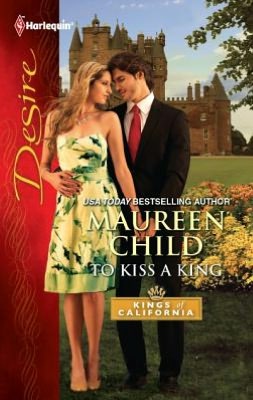 What can one say about the talented story teller Maureen Child? Her writing style and romances are most amazing. Her Kings of California series have been fabulous, with her strong alpha's and sweet heroines. This is definitely a bodyguard meets royalty with a few obstacles.and hurdles to conquer before they could get their happy ending.
From the time she was a little girl, Princess Alexia Morgan Wells from a small European country remembered hearing her mother's and father's love story. How the King met his love (her mother) at Disneyland. Alex was tired of being under guard by palace security, so she fled and went to California with Disneyland being her final destination. That was where she met Garrett King who was spending the day with his cousins and their children. It was lust at first sight for the both of them. Garrett rescued Alex from an unwanted man who kept pestering her and eventually, he invited her to spend the day with his family.
Garrett and his twin Griffin ran a security/bodyguard business. Earlier, Garrett had worked for the King of Cadria so when he recognized Alex he felt a duty to call the King and tell him his daughter was in California. Both the King and Queen were concerned so out of loyalty, Garret agreed to watch over Alex and fought his passion for her. Their attraction was very strong and Alex didn't shy away from telling Garrett she enjoyed his kisses. However, Garrett held back due to losing a young woman years earlier, one he loved, one he blamed for her death. He was scared if he took his and Alex relationship to a sexual one, letting down his guard, the same thing could happen to Alex.
Let just say their two weeks together was a roller coaster ride, full of sass, passion and ups and downs. In the end, Garrett told her there was no chance for a permanent relationship and so Alex returned home to the palace and her duties broken hearted. Maureen Child states in her "Dear Reader" that she has a love for old Hollywood movies and mentioned "Roman Holiday". This was the authors' version and trust me, it's enchanting and a winner in my book!
Back of the Book:
For security expert Garrett King, rescuing a damsel in distress is routine—even if she is a runaway princess. And especially if she's a sexy, desirable woman he intends to keep very, very close.
Garrett knows Princess Alexis escaped her castle to look for independence and true love—and she thinks she's found it in him. But he's no white knight. As a bodyguard, he's been covertly hired to protect her during her adventure. As a confirmed bachelor, he doesn't do happily ever after…but one kiss from a princess could change everything.